Health and Safety
Health and safety notices and evacuation procedures are located prominently in each of the main buildings at Lake Karāpiro/Mighty River Domain.
In an emergency:
Dial 111, describe your emergency, and direct help to the Lake Karapiro, Mighty River Domain, Don Rowlands Event Centre.
Advise Lake Karāpiro staff, in person or by phoning the cell phone number shown on the front door of the office
Contact Kiwigrass Staff and ask for the First Aid Volunteer.
Portable defibrillators
A portable defibrillator is located in the Lake Karāpiro Office. If reception is locked phone the duty staff member on the mobile number shown on the door.
Kiwigrass is produced with the support of: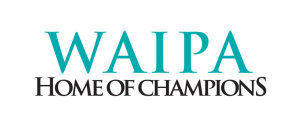 and in association with :