Tickets
***Tickets for the 2020 Festival will go on sale in late September or early October.***
Prices for 2020 Tickets will be set soon, we aim to keep them as close to 2019 prices as possible, but the state prices will be GST inclusive this time, per your requests!
We will offer deeply discounted prices for youth 18 and under, and under-5s will still be free.
Accommodation
Camping can be booked at the Mighty River Domain through their website: https://www.lakekarapiro.co.nz/page/accommodation/
There are off-site accommodation options in the area around the festival venue, a quick web search will turn up dozens in a variety of price ranges, locations and styles.
Venues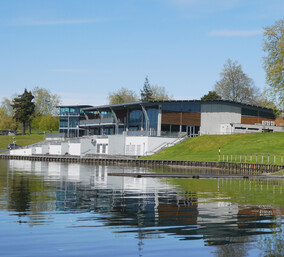 The main auditorium of the Sir Don Rowlands Centre will be our primary concert stage with workshops and smaller performances happening in the smaller meeting rooms and outside around the grounds.
Food
We had wonderful food vendors at Kiwigrass 2019, and following the success and fun of that event have been contacted by many new vendors who wish to join us.  We will post all the options as they become available at http://kiwigrass.nz/food-at-kiwigrass/.
Stuff you should know
Code of conduct and terms of entry
Kiwigrass is sponsored by: