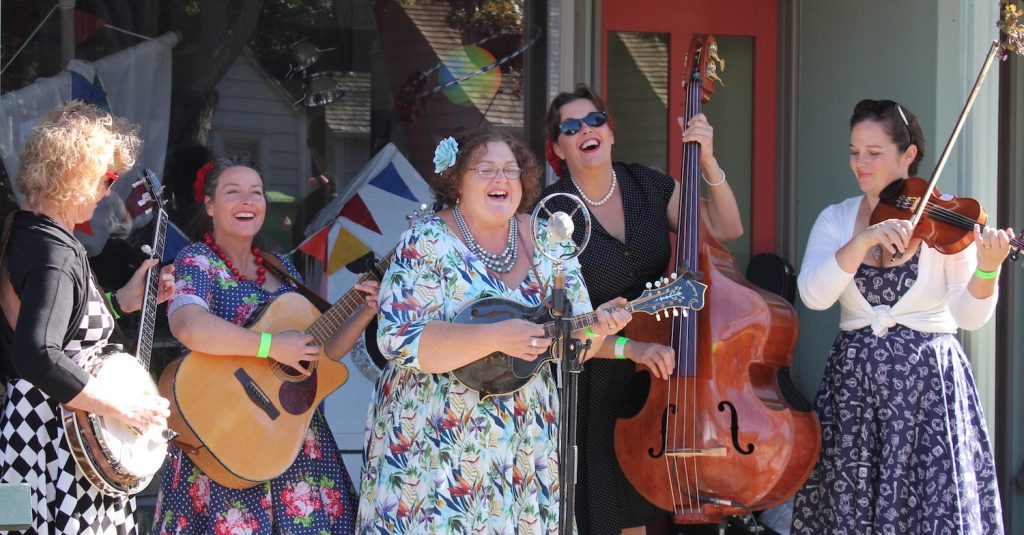 Hot Diggity Bluegrass Band (New Zealand)
When it come to band photos the blokey bands try, but Hot Diggity are way more photogenic. Could it be that they smile and laugh and generally give the air of real live fun?
Hot Diggity is the only all female bluegrass band in New Zealand, but that is not why you should go see them at Kiwigrass. You should listen to them because they are one of the best bluegrass bands in New Zealand and as the photos imply, their shows are lots warm-hearted fun.
They play original songs by Heather Carrigan (mandolin, guitar and vocals) and Deborah Mackenzie (guitar and vocals) along with plenty of bluegrass favourites. If you were not told who wrote these songs you would probably go home and Google them to see where they came from because they totally sound the part.
Kiwigrass identity Jenine Abarbanel supplies bass and vocals, with Sue Drake on banjo and vocals and Krissy Jackson fiddle and vocals, combining to make a powerful five piece with a lively sound, hot chops, and tight harmonies.