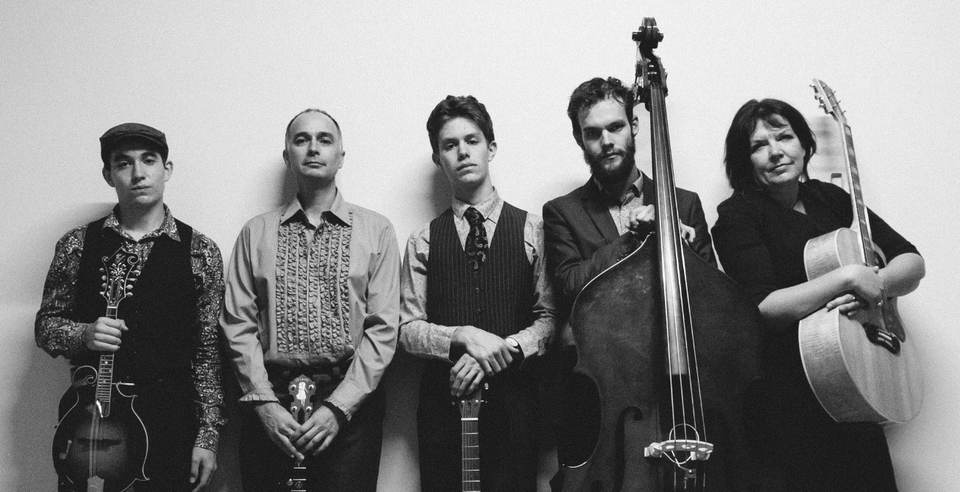 You Me Everybody (New Zealand)
You, Me, Everybody is a celebration of allowing others their moment to shine, the virtuosity of the individual and the camaraderie of coming together in a musical moment.  Taking their inspiration from a range of musical styles, YME start at bluegrass, weaving jazz, country and blues to create a dynamic sound that celebrates the best of Americana.
You, Me, Everybody is a band to look and listen for. You might know the  members:
Laurence not only plays but builds beautiful guitars and his songwriting crosses boundaries of effortless but mature in the same breath.
Sam oozes musicality; he'll pick up a mandolin, fiddle or double bass in a nonchalant manner but his talent quietly shatters the illusion of youth.
Nat Torkington is the resident banjo player for the Pipi Pickers. He is constantly pushing his own and his banjo's boundaries while also encouraging other musicians to explore and challenge the bluegrass form.
Kim Bonnington has a heart of pure country. She's as comfortable at the centre of stage as she is as a backing vocalist and is known for her work as one half of Kim and Dusty but also for providing harmonies for a range of NZ acts.
James Geluk is a graduate of the NZ School of Music and most recently won a Tui for the Best NZ folk album for his work with the Frank Burkitt Band.  A bass player who brings his jazz education to bluegrass, an audience member once declared James' fingers to be like spiders as they travelled their way around his bass.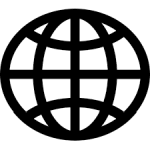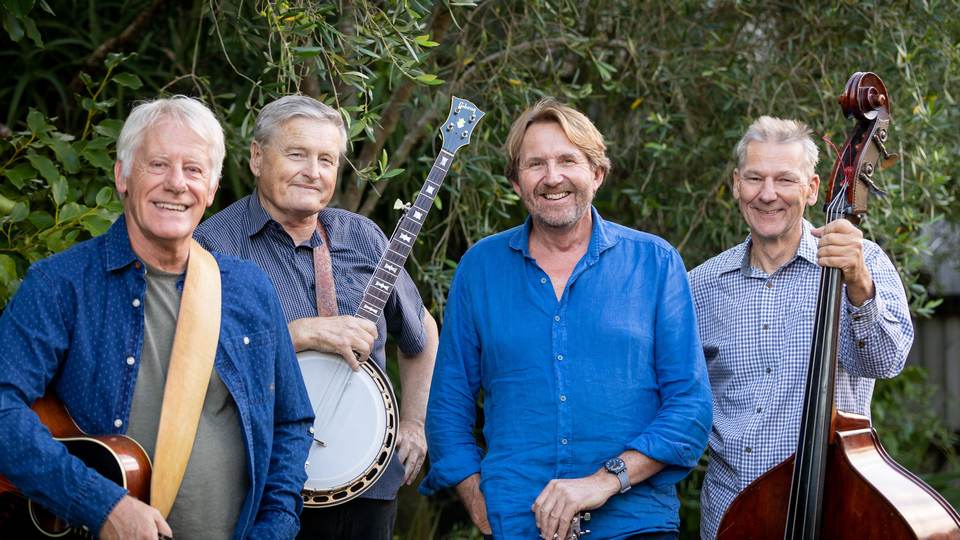 Bluegrass & Beyond (New Zealand)
When Bluegrass and Beyond go to play bluegrass, there can be a little mission creep out past the historically accurate Munroe genre.
The authentic bluegrass is there alright, it's just that other stuff somehow sneaks in, like bluegrassifcation of 60s songs, or genuine Cameron Bennett originals which have flair for capturing stories in a way that is both genuine Americana bluegrass and somehow could only be Kiwi.
John Olding – guitar, lead vocal
Colin Speir – guitar, banjo, BV's
Cameron Bennett – dobro, vocals and BV's
Pete Parnham – bass fiddle, BV's.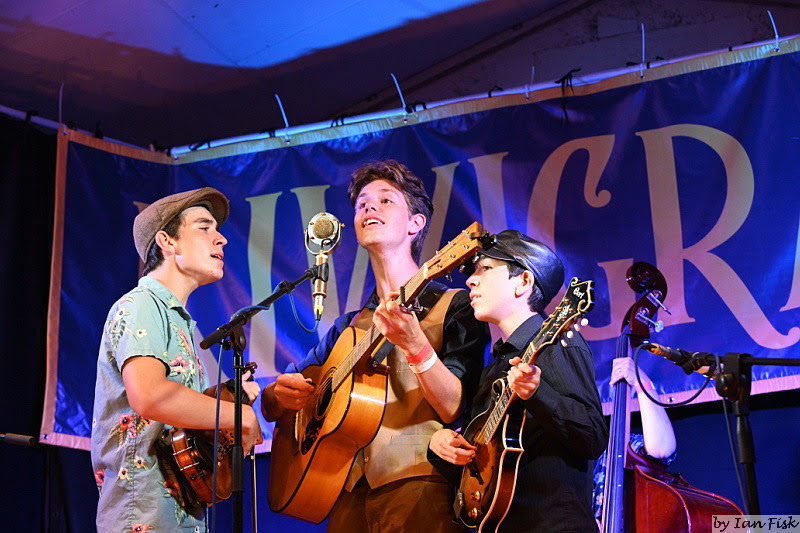 RhodeWorks (New Zealand)
RhodeWorks are an award-winning bluegrass folk band who play fast paced, high energy folk music, presenting a set of traditional and well-loved bluegrass alongside their original material.
That's the official blurb.
To Kiwi audiences they are the prodigy brothers whose fiery playing just seems to get better – and faster – in the short few years since they began.
Laurence (18), Sam (16) and Nate (13) are largely self-taught multi-instrumentalists, and they have wowed audiences throughout New Zealand and Australia. They are supported on bass by mother Tracy (obscured in the photo above).  As well as their dedication to creating unique roots-conscious music they love nothing more than heading to the workshop to craft their own instruments. Check out Laurence's donated Kiwigrass raffle prize.
Okay, it's our job to spruik bands on this site. So as proof that we are not making this up, watch the phone video below. It captures one of those Kiwigrass magic moments when professional Berklee degree holders Lonely Heart Strong Band meet on stage with Laurance and Sam Rhodes for a jam.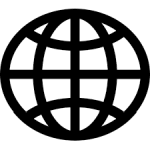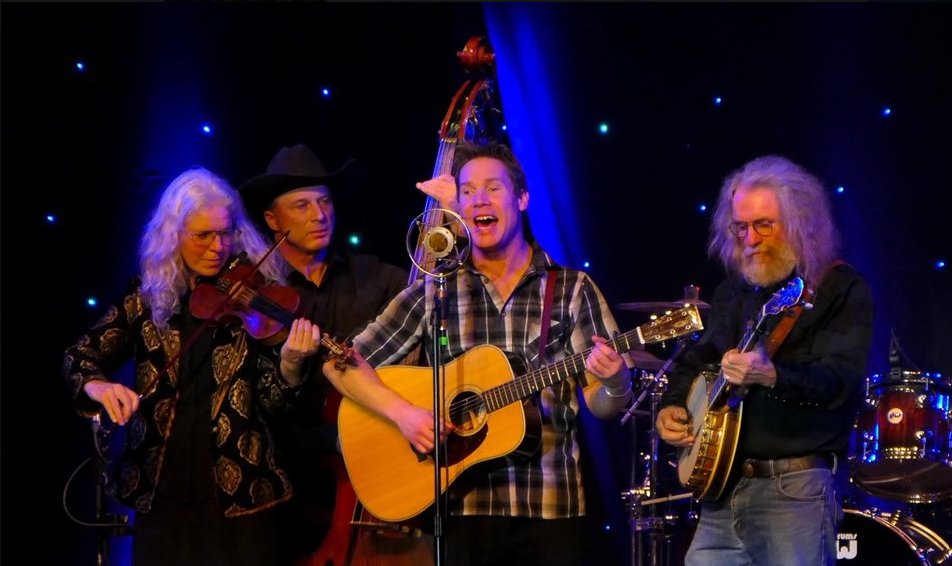 Valley Bluegrass (New Zealand)
Valley Bluegrass is Dunedin's pre-eminent bluegrass outfit.
Modelled on the great American bands in the style of Flatt and Scruggs, Valley Bluegrass play hard-driving rollicking bluegrass led by banjo, fiddle, guitar, upright bass with some occasional Dobro and mandolin.
Playing close in to a single condenser microphone in the old style, Valley Bluegrass is both visually and harmonically a rich experience.
Authentic Bluegrass, that's the promise of Valley Bluegrass.
Carola Dunbar, Robbie Stevens, Dave Colecough, Bevan Gardiner
A Video of Valley Bluegrass from Kiwigrass 2019: