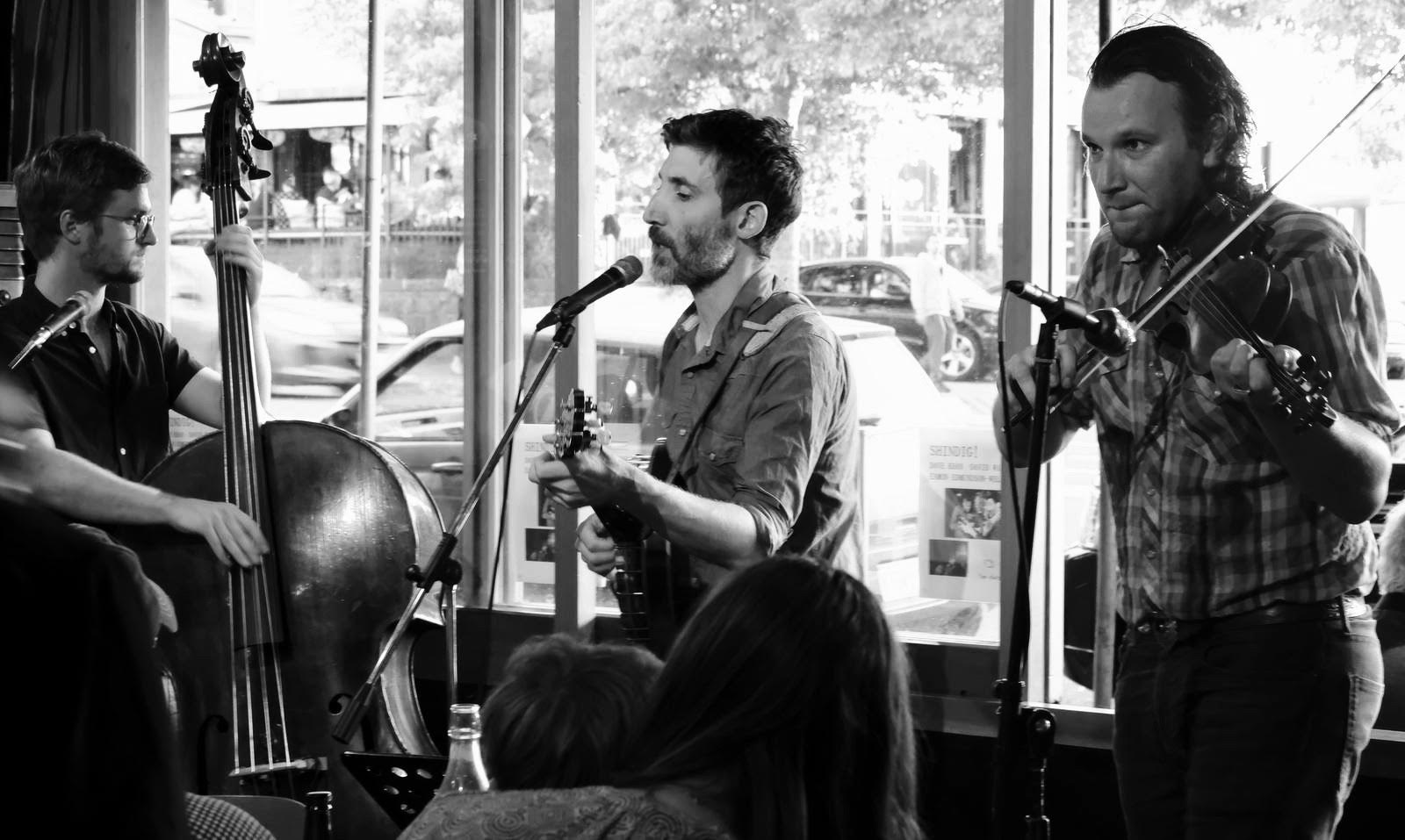 Shindig Trio (New Zealand)
Kiwigrass expands to include Old Time String music with the magnificent band Shindig Trio.  Inspired by the unvarnished authenticity of early American folk and blues heroes such as Dock Boggs, Roscoe Holcomb and Leadbelly and led by the driving clawhammer banjo and vocals of David Ward (Wheel Of Experience), vital fiddle and mandolin of Dave Khan (Marlon Williams, Reb Fountain), and solid foundation of Bassist Eamon Edmundson Wells (Ruckus), Shindig Trio present stonking takes on old-time folk, blues and country tunes from the American pantheon.
DAVID WARD is a diversely creative guitarist and banjo player who composes for theatre and original projects.  He has performed in numerous musical settings, touring extensively in NZ, Singapore, Australia, India, Germany and the U.S.A.  He is perhaps best known for his long time collaboration with Indian Ink Theatre Company for which he has twice won the Chapman Tripp Theatre Award for "Most Outstanding Composer." David writes and performs in his original Jazz ensembles such as Onomatopoeia and Ruckus, Old-Time, Folk and Blues projects such as Wheel of Experience and Shindig, as well as numerous roles performing as collaborator and sideman with many of New Zealand's most talented artists. In 2018 and 2019 David performed as a guest Banjoist with the Auckland Philharmonia Orchestra.
DAVE KHAN is a multi instrumentalist (Violin, Viola, Guitar, Mandolin, Piano, Synths) who over the past 20 years has garnered a firm reputation as a supremely creative collaborator, sideman and arranger for some of NZ's most respected artists including Marlon Wililams, Reb Fountain, Don McGlashan, Dave Dobbyn, Tim Finn, Gin Wigmore and The Topp Twins
EAMON EDMUNDSON-WELLS is a double bass player who has performed with some of New Zealand's most successful musicians and international touring artists. Most known for his work in the Jazz end of the musical spectrum, Eamon explores many different genres and approaches to music, some drenched in improvisation and freedom, others in stylistic integrity and faithful reproduction. Regardless of the approach, he is a player that focuses on what's fundamental to the music: sound, texture, rhythm, harmony, connectivity between humans, and finding peace in the process of creating.  He has recently worked with Leda's Dream, Troglodytes, Jon Pal Inderberg, Hayden Chisholm, Jeff Henderson, and Tom Cunliffe.
Learn more about David Ward here: https://www.davidwardmusician.com/.