Yesterday I went to the new Kiwigrass venue, Lake Karāpiro. It's lovely and I'll tell you more about that soon, but first I want to talk about what has long been one of my favourite New Zealand small towns: Cambridge. I don't know what it is, but I have always found Cambridge absolutely charming. Even after the Highway 1 bypass went in, I would detour back into Cambridge on that long drive between Auckland and Wellington, just to visit the Super Loos.
While I was there, I stopped in at the iSite and talked to Karina. I know many of you are already calling around the area looking for accommodation. Karina is your woman. Give her a call or e-mail (+647 823 3456, info@cambridge.co.nz), she can help you out. She has seen over 95% of Cambridge accommodation and they have 145 accommodation members on their website, www.cambridge.co.nz. They can cater for any budget or group size, and can give you options to meet any requirements.
If you're planning on camping, you can book that directly through Lake Karāpiro.
My tip for Cambridge is to make sure you take some time to walk across the Victoria St bridge, the river gorge is quite spectacular there.
Barry, Nat and I are off to the IBMA World of Bluegrass in Raleigh, North Carolina this month. I'll write again in a week or so with more exciting Kiwigrass news. In the meantime, get that accommodation booked for Kiwigrass (30 January – 2 February 2020) and Kiwigrass Academy (29-30 January 2020), and consider a couple extra days to explore Cambridge and the rest of the amazing, fun, beautiful, adventurous Waikato region.
– Jenine
Kiwigrass is produced with the support of: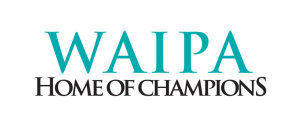 and in association with :